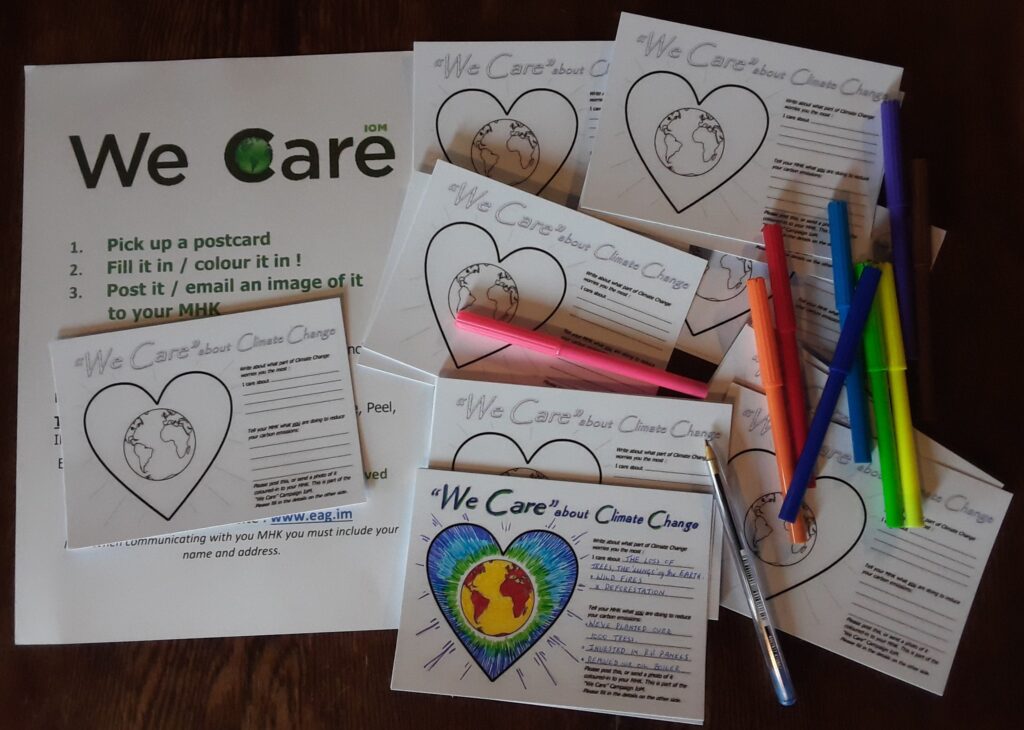 Our We Care initiative is a set of free resources to use in your own way, but designed to be fun. It aims to show our community how much we care about the environment and particularly about climate change. We support the Isle of Man government's vision for tackling climate change including by producing green energy and want more action more quickly.
It's all about your ideas on the environment, what matters to you and your opportunity to share that with friends and family and even with your MHK (member of the House of Keys).

Notes on how to use the WeCare resources
Here is an information sheet and some notes on using the resources with church groups and with other groups. There is a small flyer to give out with postcards, which explains what to do (download the flyer, print and cut into four). Also an image of completed postcards as further help.
A poster and other display material for discussion
A We Care poster, a prompt list 'What we most care about' and a list of 'Ways to reduce our carbon emissions'. And most importantly, three posters that explain the drivers of the campaign. One focused on children, our future generations; one about nature and the third on how to approach climate change, with love not fear.
Craft resources
And here are lots of images for putting on paper plates in group workshops, and for sharing with family, MHKs and the public when out and about!
Campaign postcard
And finally here is the all important postcard for colouring in. It is in a format for printing out four at a time (the two pages align when using 'short side binding' on the printer). So get colouring in and then share with friends and family, on social media and send to your MHK by post, on social media or hand it to them personally. You can find your MHK details here.